Technology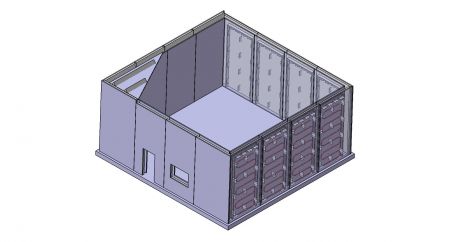 KAP-SYS:
KAP-SYS is an encased frame construction. It combines the benefits of standard frame constructions with those of double wall constructions. They are manufactured in the same way as double walls.

Pourable, foaming or solid insulation material can be used. Thanks to the thicknesses of the insulation layer, extremely high insulation values are obtained, with wall thicknesses the same as in standard constructions.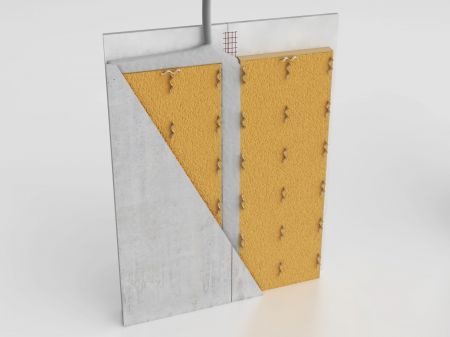 In the KAP -SYS, only a small area such as a support is concreted in near the joints between elements. This support is also insulated, of course, but more lightly. After concreting the supports, either a filling can be introduced as insulation or these areas have already been insulated in production.
Finally, at the top end of the wall, a circumferential bar such as a ring armature is reinforced and concreted. This area is also insulated, of course. This construction enables large parts of the building to be filled with insulation instead of concrete. This reduces costs by using less concrete and on the contrary increases savings in heating costs, because U-values of under 0.15 W/m²K are possible for the entire wall construction.
In terms of greenhouse gas emissions reduction and compliance with climate protocols, Kappema has made a sizeable contribution also making double wall technology possible with passive houses.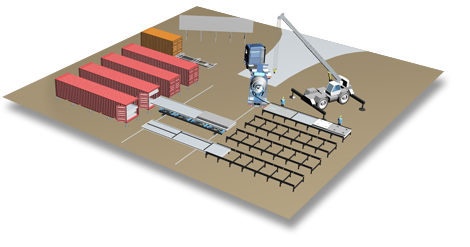 KAP-CFP:
The KAP-CFP is a complete precast component plant in two 40-feet containers. The KAP-CFP is designed for use in remote regions of the world and enables straightforward production, without having to use expensive technology. All manufactured components are extremely robust and low maintenance. Electronic controls were also avoided wherever possible.
Depending on the cooperation with the machine building company Avermann from Germany a big range of knowledge is brought into the CFP.
The unit is ready for use any time and wherever power and concrete is available. Production can also be supplied by an on-site stationary concrete mixer.
The KAP-CFP can be extended without limit and therefore be adjusted to suit the capacity required. The system is flexible and is dismantled once your work has been completed, put back into the containers, transported and installed again in a new location.
This means costs for the KAP-CFP are only a fraction of a precast plant. Manufacturing costs for your products are also considerably reduced, of course. Ask for our cost calculator. Our experts from KAPPEMA and AVERMANN are happy to advise you.
Cost calculation for using CFP for ceilings and walls
KAP Joint reinforcement:
Kappema has developed a system based on the KAP-Steel-Wave and/or the KAP-ISO-Wave enabling the installation of complete reinforcement cages with large overlap lengths. This means walls can also be constructed as supporting shear walls.
Even with high base reinforcement in double walls, overlap lengths to plate supports are no longer provided. Here is where the new patented system comes in. The KAP joint reinforcement is a precast reinforcement cage which can be installed in the precast component plant. The complete reinforcement cage is shifted horizontally in the wall via the KAP-Steel-Waves (or KAP-ISO-Waves) and moved into the right position.
This system can even be used with wall corners. The complicated threading of cages on to reinforcement supports at the construction site, particularly complex with high walls, is fully dispensed with.
Seismic proofed by Oberndorfer
The new kind of joint connection was created for a use in seismic zones. So Oberndorfer did tests in cooperation with the Middle East technical University (METU) in Ankara, Turkey. Respocnsible for the tests were the Professor Erdem Canbay and Baris Binici which are worldwide known experts in this skills. The tests were done on straight connections, corner connections and U-shape connections. Also the connection between a double wall and a hollow core slap was tested.
The results show in a 163 sides report, that the joint connection patented by Kappema allows the use of double walls in seismic zones according the Eurocode 8, the turkish earthquake code TEC and the american earthquake code.
More information you can get through our technical support.
Consulting:
Many years of experience in production and assembly of precast concrete components have given Kappema a huge potential for knowledge about the manufacture of precast concrete components.
Kappema passes on this expertise in global consulting contracts in order to present this technology also to those regions where the use of precast concrete parts is not yet widespread. This can also be done in conjunction with the installation of the KAP-CFP (Concrete Field Production).